Stian Husemoen's personal home pages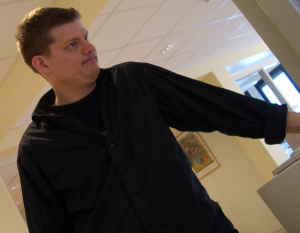 Welcome to my small corner of the Internet. All views expressed here are strictly personal and not in any way associated with my employers or any other organisations I'm connected to.
My name is Stian Husemoen and I currently the head of IT services at Gjøvik University College, and live just south of Lillehammer in Norway with my two children.
This website is mostly just a place for me to put information about my projects, views, and experiences. It also contains my resume, and some useful background information if you are a potential employer or customer googling for more info about me.
I can best be described as a person of many passions with computers being the most time consuming. I've been around computers for over 20 years, and it's still a substantial part of my life.
One thing I'm very passionate about is free speech, and the sharing of information. This is one of the reasons I support Open Source and Linux. I'm currently member of Lillehammer Linux User Group and a sponsor of the Gjøvik University College Linux User Group.
I'm against all types of software patents because they threaten innovation and prevent fair competition. Fair competition is essential in any free markets, and needed if we're to have a healthy economy. This is also why I'm against all kinds of monopoly behavior and thinking. I have no problems with copyrights or proprietary software as long as they don't try limit the consumers right to use it as they see fit.
Basketball is also a passion which I've practised for over 15 years as a player, coach, referee, and volunteer. I'm now the chairman of Lillehammer Basketball Club which I founded in 1992. I'm now mostly retired as a player, but I used to play for Lillehammer and Oslo University.
I also have a past as a amateur musician, and still frequently play the guitar, sing, and write songs. I used to play guitar and vocal in a local blues rock band in the 90s called Wanted, but now no longer play in public (well almost)
In later years I've picked up a hobby in beer brewing, and brew beer for every occasion like; births, weddings, Christmas, and Fridays.
Since the late 80s I've been a supporter of Everton Football Club, and for the last 8-10 years been a passionate Evertonian that visit Liverpool at every opportunity I have to see them play.
I'm also into Italian cooking and sciences fiction movies when time permits.
Please note this website hasn't been updated for over a decade (~2008). It is only here for historical purpuses. Enjoy with care!